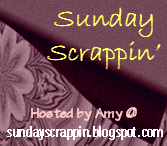 For all you
Sunday Scrappers
... Here is my Ta-Da: I was able to get one layout this week. It is not a great pix but I'm too lazy to take another one. ;-)
My To-Dos are: I'll take what I can get! I hope to be able to scrap a bit this week but who knows. This is a busy time for us: Joe is starting developmental pre-school tomorrow, we're doing alot of spring cleaning (and donating a bunch of stuff to a fund raiser garage sale for some
friends who are adopting from Ethiopia
), we're days away from being "full term" so we could potentially be having the baby soon...
In other news... yesterday we were blessed with a fun day of Easter celebrations with our church and family.
Two Easter Egg Hunts in one day was plenty for us! No more candy, please! ;-)
While we go through the motions of egg hunts and such, I want to take moment to focus on the real reason that we celebrate Easter. So, here are a couple bible verses to think about.
*these are all from the New Living Translation.



Matthew 27:50-53
-
And when Jesus had cried out again in a loud voice, he gave up his spirit. At that moment the curtain of the temple was torn in two from top to bottom. The earth shook and the rocks split. The tombs broke open and the bodies of many holy people who had died were raised to life. They came out of the tombs, and after Jesus' resurrection they went into the holy city and appeared to many people.

Romans 1:4-5
- And Jesus Christ our Lord was shown to be the Son of God when God powerfully raised him from the dead by means of the Holy Spirit. Through Christ, God has given us the privilege and authority to tell Gentiles everywhere what God has done for them, so that they will believe and obey him, bringing glory to his name.
Philippians 3:10-12
-
I want to know Christ and the power of his resurrection and the fellowship of sharing in his sufferings, becoming like him in his death, and so, somehow, to attain to the resurrection from the dead. Not that I have already obtained all this, or have already been made perfect, but I press on to take hold of that for which Christ Jesus took hold of me.


1 Peter 1:3
-
Praise be to the God and Father of our Lord Jesus Christ! In his great mercy he has given us new birth into a living hope through the resurrection of Jesus Christ from the dead...