Last week for our homeschool group's preschool story/craft time I share the Caldecott Honor Book:
Owen by Kevin Henkes
.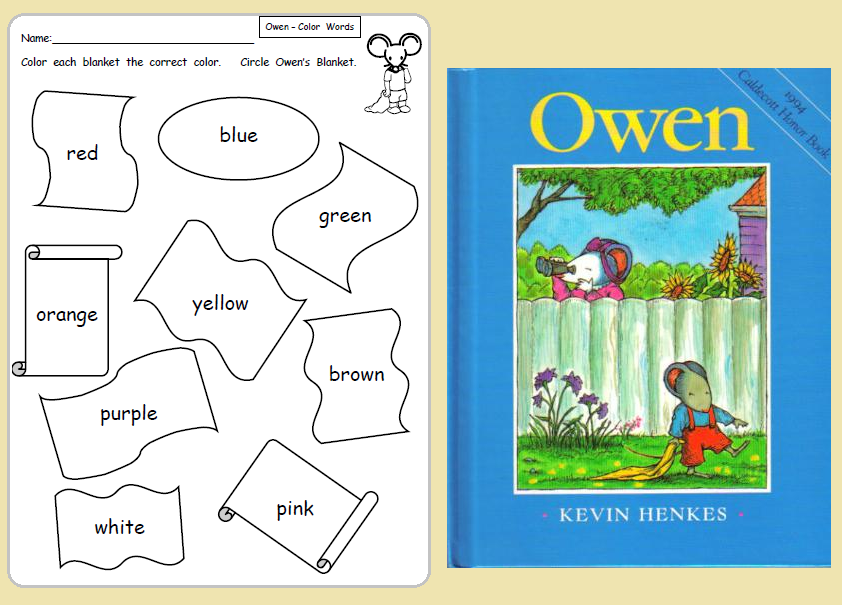 Owen had a fuzzy yellow blanket. "Fuzzy goes where I go," said Owen. But Mrs. Tweezers disagreed. She thought Owen was too old for a blanket. Owen disagreed. No matter what Mrs. Tweezers came up with, Blanket Fairies or vinegar, Owen had the answer. But when school started, Owen't mother knew just what to do, and everyone -- Owen, Fuzzy, and even Mrs. Tweezers -- was happy.
We talked about the book using the discussion ideas found
here
. Then the kids spent some time on coloring pages that I found
here
. Since the kiddos cannot read yet, us grownups colored a swipe of the appropriate color on each blanket and the kids matched it up with the proper crayon while they were coloring. I also brought with me a large piece of flannel that I cut up into "hankies" for the kids to take home with them.