Recently I have participated in a couple of swaps online. Its always fun to give and receive packages in the mail!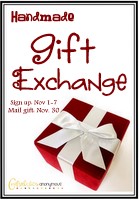 Here are some of the goodies we have been blessed with:
My swap partner Amy seemed super busy so she didn't communicate with me much but did bless me with these great handmade items: ribbon rose headband, beaded bracelet, fabric flower clip and hand stamped Christmas card.
Clearly she is a talented crafter! Thanks, Amy!
Kids Christmas Craft Swap - via
The Homeschool Lounge
I had some issues along the way with this swap. I sent my partner's kids an edible Christmas craft and her son was diabetic so I had to send her another thing... it was a little embarrassing. But in the end it was fine. Nate got a couple of fun Christmas crafts including this foam wreath which he did within minutes of opening the package.