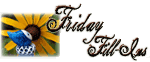 If you want to post your own
Friday Fill-in
just copy and paste this text and fill-in your own answers!
1. I love springtime in
_movies - all the beautiful scenery... its not always so picture perfect in real life_
!
2.
_Lumberjack Platter (pancakes, sausage, eggs, hash browns, biscuits and gravy... the works!)_
are foods I love to eat for breakfast.
3. It seems I'm always searching for
_peace_.
4.
_Cuddling up watching the new episode of The Office with my hubby_
is a great way to end the day.
5. I think I
_love you, so what am I so afraid of..._
!
6.
_A romantic/tropical vacation_
is what I've been craving lately.
7. And as for the weekend, tonight I'm looking forward to
_free beauty treatments_
, tomorrow my plans include
_therapy for Joe_
and Sunday, I want to
_go to Moe's for lunch after church (its kids eat free day)_
!