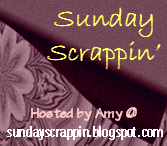 Sunday Scrappin' is a craft meme and we're always looking for more scrappers or paper crafters to join in the fun! Check it out!

My Ta Da for this week is a bunch of "Little Birdie" cards I made to thank the many ladies who helped to make our church's women's retreat such a great success.
The base of the cards I bought awhile back at Micheal's and decorated them one day this week. I love the bird stamp! It has a dozen or so phrases that all fit perfectly into the flourish! What do you think?