1 Timothy 2:9 - "And I want women to be modest in their appearance. They should wear decent and appropriate clothing and not draw attention to themselves by the way they fix their hair or by wearing gold or pearls or expensive clothes." (NLT)
Modesty is a big issue. The world, our society seems to see no place for it. And there are debates within the Christian community as to how far we should go as women of God to maintain our modesty. Are the
Amish
on the right track with their simplistic approach to modest clothing? How about the
Apostolic Pentecostal women with their long skirts and long hair
? Should women be allowed to wear pants? Or should we not worry about modesty at all and wear tight shorts that say "bootylicious" on them?
Clearly this could stir up endless comments on all sides of this debate. But I am not here to take sides. I myself find it difficult at times to find a balance and achieve modesty and still feel somewhat fashionable. It seems like the clothing industry makes everything either sexy or frumpy and I am at a loss as to what to buy or wear sometimes. Sometimes we have to take fashion into our own hands!
Summer is just around the corner and along with that comes trips to the pool and all that goes with that. So I thought I would share what I have come up with to avoid the granny moo-moo bathing suits but still remain modest. I created a faux cami look for my bathing suits via layering. This works best if you have a suit with a deep V but could be used with most other styles too. I find that most suits that fit my curvy body type end up being very revealing in the cleavage area. I had a hard time finding a good pix to show it because I'm usually hiding behind a kid! But I think you get the idea.
You will need:
a tankini or one piece bathing suit to modify
a pair of bikini bottoms in a coordinating color (I would go for solid if your suit is patterned or if your suit is solid and you want to add some pop then you could do a coordinating pattern)
needle & thread (coordinating color is optional because all of the stitches should be hidden - and if you are desperate or don't sew you could use safety pins)
1- try on the suit and decide how much coverage you want - put pins on the suit to mark where you need to cover
2 - cut the bikini bottoms in half (cut at the sides and in the middle of the dare I say... crotch part)
3 - lay the front piece of the cut bikini bottoms inside the suit top and line it up with the marks you made - this will serve as a faux cami
4- pin in place along the edges of the neckline
5 - stitch (or pin) around the neckline to attach the "cami"
6 - once attached trim away excess fabric around the edges to avoid added bulk underneath the suit top
7 - TaDa! Now you have a cute, modest, stylish swim suit you'll be comfortable wearing to the pool or beach!
Here is a suit (available online at
Divinita Sole
) that is similar to what I've done with mine, where it has a cute cut but layered with a cami for coverage.
Divinita Sole
also carries other styles of relatively modest bathing suits and a whole line of modest dresses too.
There are a lot of views on modesty, what women should wear and how much is too much skin to show... Here are a few posts that I found interesting:
Great post on
Modesty & Swimwear
.
Scientific take on modesty
and swimwear.
Bianca from In the Name of Love shares her take on
Swimsuit Modesty
.
A
Guy's Perspective on Modesty
.
I hope this tutorial is helpful. If you modify your own bathing suit please send me a link or pix! I'm linking up to: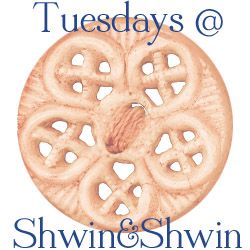 1 Peter 3:3-4 - "Your beauty should not come from outward adornment, such as braided hair and the wearing of gold jewelry and fine clothes. Instead, it should be that of your inner self, the unfading beauty of a gentle and quiet spirit, which is of great worth in God's sight." (NIV)