I like food. Anyone who knows me probably figured that out easily. I'm not a very picky eater, I eat almost anything. But I do have my favorites. One of my favorite things when eating out is getting sampler platters or a pick-your-own-combo types of meals so I can get a little bit of this, a little bit of that, etc. Maybe it makes feel like I'm getting more for my money... I'm a frugal minded person
thanks mom
so that may be a contributing factor.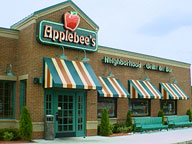 Right now our neighborhood
Applebee's has a Three Course Classics
deal going on where you choose your appetizer, meal and dessert for a decent price. Its just the right amount of everything. They've got a pretty good variety of things to choose from too. I got the Fiesta Lime Chicken the other day and it was soooo yummy! Food with a Mexican flare is usually one of my faves - maybe its the 1/4 Hispanic in me, I dont' know. I also love dessert.... and I could easily get carried away and eat a full sized one - but shouldn't. So with this meal your dessert is in a large shot glass. Its just the right size to curb that sweet tooth desire but not so much that you wished you'd refrained cause you're so full!
While we were squeezed together in the back of a suburban on the way to dinner at the church retreat this past weekend, Sniz and I discussed how much we liked Applebee's and decided we should go sometime since our husbands aren't huge fans of it.... so Sniz - let me know when you want to go out!
*Could you tell I was hungry when I wrote this?