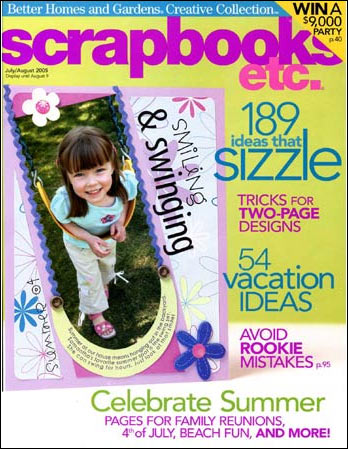 Using some of my birthday money I bought a subscription to a paper crafts magazine:
Better Homes and Gardens Scrapbooks Etc
. Well, my first one came in the mail today! I was soooo psyched! I love getting new ideas for future projects.
Something I came across was information on scrapbooking retreats. Now, I've seen the stuff advertised before but had kind of forgotten about it. Well it got my attention this time
maybe because I'm still thinking about "far far away"
. There wasn't alot of info for this area of the country in the magazine so I got to "Google-ing"! I found two places that sound really cool! One is
The Gathering
: a retreat with purpose. The prices were better than some and I liked that they donated a percentage of their profits to a local women's shelter. I also found
Crop-a-doodle-do
: the ultimate scrapbook and spa get-away. Whats not to like about getting manis and pedis while scrapping?!? Both places are Bed and Breakfast style retreats with home cooked meals and cozy atmosphere with special crop rooms for us to use their tools and release our creative juices. Love it! So... to my local scrappin' girls.... let me know if you're interested because I sure am!