Almost every year my husband's family drives to
Brown County
in the fall. We pack up the food and the kids and go down to
Brown County State Park.
We usually stop a a flea market on the way. Then the guys grill out while the kids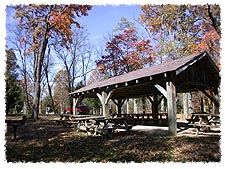 play and we all spend the day together. Sometimes us girls will slip away to downtown Nashville and do some arts and crafts shopping. Its such a great place to enjoy the changing fall weather.
What places do you and your family like to go together annually?