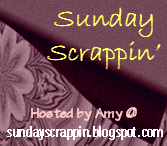 My girls and I had another fun time at a crop this past Friday night. A couple girls had to leave early so that was a bummer but that gave me more table space! Anyway, it was a good crop and I got some good pages done (that are on the slideshow) and found some really cute paper and ribbon on sale while we were there.
Here are my week's
Ta Da's
:
I organized my completed pages by date. Since I don't scrap chronologically they've just been piled up in no particular order. I feel good having them somewhat orderly now!
I also did alot of journaling. I don't care for my handwriting much so I usually leave a blank spot on the page and do the journaling later. I probably did 20 pages worth in one night!
I condensed my scrapping stuff... I had kind of taken over the whole room (including the floor space! So I'm sure my husband is glad that he can once again walk through the music/scrapbooking room!
I started making some pre-made pages for a Christmas gift (you'll see those on the slideshow).
And my
To Do's
are: well, it'll be a busy week and we're going out of town next weekend so I'm not sure what I'll be able to get done. I just hope to do a few pages here and there.
Check out other
Sunday Scrappers
!!