1.
The Brazilian Job: the follow up to Paramount's US remake of The Italian Job is still on the cards, and it's got a 2009 release date marked. Jason Statham, Mos Def, Mark Wahlberg and Charlize Theron are attached, as is director F Gary Gray.
2.
National Treasure 3: Not a huge surprise, but as the Nic Cage Indiana Jones knock off franchise has proved to be quite a juggernaut, you'll only have to wait until 2011 for the third film in the series.
3.
Cars 2: We spotted this on AintItCool – is Pixar really looking to make a sequel to its weakest film? Apparently so…
4.
Toy Story 3: This one, after lots of umming and ahhing, appears to be a goer. It won't, as was speculated, be a straight-to-DVD affair, and Tom Hanks and Tim Allen are both expected back on voicing duties. It'll be out in 2010.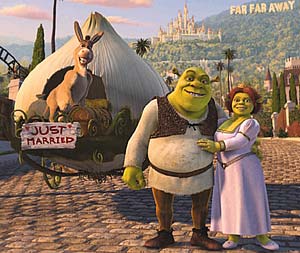 5.
Shrek 5: The fourth film was a no-brainer after the tepid third outing made so much cash. But a fifth instalment has also been confirmed. No wonder Shrek is the same colour as an American dollar…
6.
Night at the Museum 2: Ben Stiller is returning for his most commercially successful role outside of the Meet the Parents franchise. We can wait. No news on the proposed Meet The Little Focker, though.
7.
Ice Age 3: 1st July 2009. That's the date you'll need to avoid if you want to miss the next Ice Age movie. Hopefully it'll be better than the second one…
8.
The Thomas Crown Affair 2: Weird, this. It's taken them ages to do a sequel, and then they draft in Paul Verhoeven to direct a follow-up to someone else's film. Pierce Brosnan returns, and filming starts shortly.
9.
Pink Panther 2: Oh dear. And I'm a Steve Martin fan. It's out on 13th February 2009.
10.
Jurassic Park 4: It's taken them ages to sort this out, but the latest is that Laura Dern is still attached, and that it'll be released in 2009. Don't hold your breath though, as shooting would need to start really very soon...
11.
I, Robot 2: All we know on this one is that it's in the scripting stages still, with a potential 2010 release date planned in. No news on Mr Smith's involvement.
12.
The Hobbit: Guillermo del Toro will be behind the camera for two movies based on The Hobbit, and Ian McKellen is coming back too to play Gandalf. Andy Serkis is confirmed as Gollum too. The first film is out in 2011.
13.
Anchorman 2: This is more like it! Helmer Adam McKay has confirmed that he and Will Ferrell will be knocking their heads together on a sequel to the glorious comedy adventures of Ron Burgundy and his news team. This is very good news.

* Information found at DenOfGeek.com - Check out the rest of their list of coming sequels!

For more Thursday Thirteen participants check out ThursdayThirteen.com